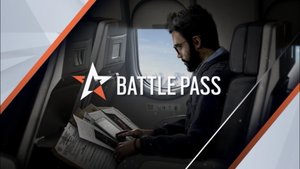 The Battle Pass is a microtransaction system featured in Tom Clancy's Rainbow Six Siege. The pass rewards players with cosmetics through tier progression. Progression is obtained through "Battle Points" which are awarded based on performance in completed matches. Battle Points are awarded for completing rounds in multiplayer. Points are not obtained for leaving matches, getting kicked, staying idle, and surrendering.
Match Win - 120 Points
Match Loss - 100 points
Round Win - 60 Points
Community Missions - 600 Points
Aside from cosmetics, the battle pass will also see the release of additional information and lore behind Harry Pandey and Rainbow Operators. The pass will be released in two phases. The first phase was released in the Operation Ember Rise expansion while the second phase was released in the Operation Shifting Tides expansion during the Road To S.I. 2020 event.
Battle Pass
Like the Mini Battle Pass, the Battle Pass features free and premium Tracks. Both tracks originally offered 35 tiers, offering 50 rewards composed of exclusive customization items, Alpha Packs, currency packs, and boosters. Operation Steel Wave later increased this to 45 tiers and 58 rewards. The Free Track is available for all players while the Premium Track costs 1200

. The Premium Bundle is also available and immediately unlocks 12 tiers alongside the Premium track and costs 2400

. Season Pass holders have a 30% discount on these prices as well as a 30% boost on the amount of Battle Points earned.
Road To S.I 2020
The first Battle Pass was released on January 15, 2020 for the Road To S.I. 2020 event. 30% of all revenue generated by the Premium Track goes towards the Six Invitational 2020 prize pool. The pass expired at the end of the event on February 16, 2020.[1]
Around The World
The second Battle Pass, "Around The World" was released during the Operation Void Edge expansion on March 25, 2020 and concluded on April 22, 2020.
Tour De Force
The third Battle Pass, Tour De Force", was released during the Operation Steel Wave expansion on June 29, 2020 and concluded on July 26, 2020.
Mini Battle Pass
"You've seen me before. Perhaps in the shadows, observing, watching, recording my thoughts. While Six would take the center stage, I was never far behind, whispering my advice as I calculated and planned Rainbow's every step. Now, as I assume the mantle of Six, I can finally set in motion the strategies I have carefully engineered. I know it will take years to unfold, but no matter, I am playing the long game. I will change Rainbow. Forever. Also, please, just call me Harry."
— Harry Pandey
The Mini Battle Pass, also known as Call Me Harry was released on October 15, 2019 and concluded on October 23, 2019. Serving as a test to the main battle pass, it only has seven tiers. It was available for free to all players.
Tier
Image
Description

2

Harry's Work
When asked what I do, I often say I am an archaeologist of human emotion. Or a cartographer, carefully mapping my journey through time and space.

4

Harry's Life
A Grandmaster can see dozens of moves ahead when he looks at the board. I try to look through to the next game. This touchstone is my time machine.

6

Harry's Project
This is not a plane ticket. It's an invitation for a front row seat to the future of Rainbow. I call it The Program. You may well call it home.

7

Harry Chibi
When I was a boy, I invented my own mathematical system call Spectaculous. When they asked, I would tell people it was for mapping my dreams.
Gallery
Trivia
The Mini Battlepass was originally supposed to conclude on October 22, 2019. Due to server degradations across all platforms, it was extended by one day.
References
Community content is available under
CC-BY-SA
unless otherwise noted.