New Pokemon Games - The Loop
Play Sound

Cut content
The subject of this article, Daily Challenges, has been cut from the final version of a Rainbow Six game.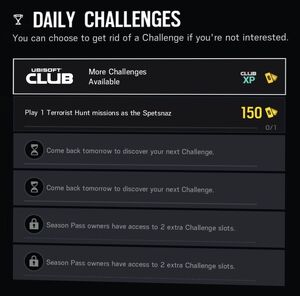 Daily Challenges were a gameplay feature of Tom Clancy's Rainbow Six Siege that were removed with the release of the Crimson Heist expansion. Each challenge required players to complete a specific task. Upon completion, Renown was be awarded to the player.
All players had access to one challenge slot which was then increased to three slots after achieving level 10. Season Pass holders had immediate access to three and five challenge slots respectively. One challenge was awarded to players every 24 hours. Challenges remained available to players until they are completed or deleted. The Daily Challenge menu also displayed Weekly Challenges within the Ubisoft Club.[1]
Organization
[
]
| Description | Reward |
| --- | --- |
| Play 1 Training Grounds mission | 150 |
| Play 1 Training Grounds mission as the Spetsnaz | 150 |
| Play 1 Training Grounds mission as the SAS | 150 |
| Play 1 Training Grounds mission as the FBI SWAT | 150 |
| Play 1 Training Grounds mission as the GIGN | 150 |
| Play 1 Training Grounds mission as the GSG 9 | 150 |
| Play 3 Multiplayer rounds as the Spetsnaz | 150 |
| Play 3 Multiplayer rounds as the SAS | 150 |
| Play 3 Multiplayer rounds as the FBI SWAT | 150 |
| Play 3 Multiplayer rounds as the GIGN | 150 |
| Play 3 Multiplayer rounds as the GSG 9 | 150 |
Operator
[
]
| Description | Reward |
| --- | --- |
| Play 3 multiplayer rounds as an Attacker | 150 |
| Play 3 multiplayer rounds as a Defender | 150 |
Gameplay
[
]
| Description | Reward |
| --- | --- |
| Get 1 headshot in Multiplayer | 150 |
| Get 2 kills in Multiplayer | 150 |
References
[
]