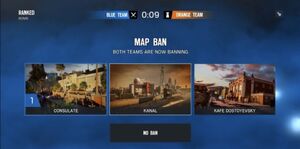 Map Ban is a custom gamemode option in Tom Clancy's Rainbow Six Siege that was introduced in the Operation Shadow Legacy expansion. Available for the Ranked and Unranked playlists, it allows players to ban maps from the current rotation of their game session.[1]
Before a match, each team will be able to ban one map from a random pre-selection of three maps from the season's current map pool. Banning the same map will result in a random selection from the two remaining maps while banning two different maps, by elimination, will result in the selection of the remaining map. Players can also choose not to ban any maps.[2]
Community content is available under
CC-BY-SA
unless otherwise noted.