For the remake of the missions, see Operation Mystic Tiger (Shadow Vanguard).
Operation Mystic Tiger is the sixteenth mission in Tom Clancy's Rainbow Six. Its multiplayer counterpart is BioDome.
Mission Objective:
John Brightling and the last remnants of the Phoenix Group have barricaded themselves in the Horizon Ark in Brazil. Your mission is to take control of the Ark, neutralizing any of the occupants who offer resistance and rescuing those who are willing to surrender.
Briefing
John Clark - Into the lion's den. Brightling's in there, hiding deep in some bunker. There's no telling what he might do if we try to wait him out -- kill himself, kill his followers, make an attempt to expose the Brazilian troops to the virus. The decision's come down -- we're ending this now. Good luck, and Godspeed.
Catherine Winston - According to the Horizon records, the only remaining cultures of the virus are stored at the Ark. They must be destroyed. We've got a full biohazard team standing by waiting to go through the whole complex with a fine-toothed comb once you give the all clear.
I still can't believe John Brightling is behind all this. One of the reasons I went to work for Horizon was that it seemed so much more humane than other corporations. I never imagined my research would be twisted into something so horrible.
Mission Orders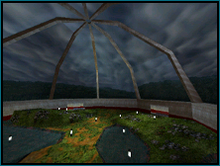 John Brightling and the remnants of the Phoenix/Horizon conspiracy have barricaded themselves in the Horizon Ark. The Ark consists of three habitat domes and an inner survival bunker where Brightling is believed to be hiding. Brazilian troops have surrounded the compound, but RAINBOW has been asked to lead the assault.
Some of the Ark's occupants may be willing to surrender peacefully. Avoid unnecessary bloodshed, but keep in mind that the safety of the team and the capture of John Brightling take priority.
There is a possibility that the Brahma virus has been released within the Ark. The use of biosuits is highly recommended for this mission.
RAINBOW Update
By thwarting the Phoenix group's attempt to release the Ebola Brahma virus, RAINBOW has proven itself as the world's premier counter-terrorist force. John Brightling is found guilty of crimes against humanity and is sentenced to life in prison plus 50 years. Anne Lang is found guilty of treason in the United States and is sentenced to life in prison.
Gallery
Trivia