Not to be confused with the The Program.
The Pilot Program is a revenue-sharing deal between Ubisoft Entertainment and select esport teams in Tom Clancy's Rainbow Six Siege. The program offers unique Uniforms, Headgear, Weapon Skins, and Charms to players that are themed around the Pro League and esport teams participating in the Pilot program. Revenue obtained from the purchase of these items is then shared with teams participating in the program.
Phase 1 of the Pilot Program was first announced on June 5, 2018 and launched on September 4, 2018 to coincide with the release of Operation Grim Sky. It involved eleven teams across Europe, North America, Latin America, and Asia-Pacific. All new teams to the Rainbow Six Pro League were automatically chosen for the Pilot Program. Additionally, veteran teams were chosen based on their League growth, experience, and competition results.
Each team originally had a unique weapon skin and charm that was themed around their team. Two team, SK Gaming and Vitality, later left the program. The remaining eight teams had themed uniforms and headgears created and were released on December 4, 2018 alongside the Operation Wind Bastion expansion.[1]
Revenue sharing functioned in two ways based on Pilot Team Bundles and Pro League Bundles.
Pilot Team Themed Bundles - Had 30% of all net revenue went to the respective pilot program team.
Pro League Bundles - Of the 30% of all net revenue, 9% went towards the Six Invitational 2019 prize pool while the remaining 21% was split equally between each pilot program team.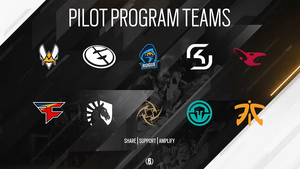 Sports
Vitality
Evil Geniuses
Rogue
SK Gaming
Mousesports
FaZe Clan
Team Liquid
Ninjas in Pyjamas
Immortals
FNATIC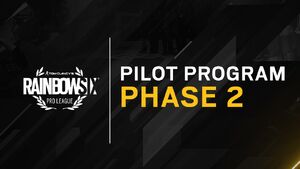 Phase 2 of the Pilot Program started on September 9, 2019 alongside the release of the Operation Ember Rise and will conclude in May 2020. It currently involves fourteen teams across all four regions, with two more teams expected to be added to the program in the future. Existing and new teams had to submit an application to be considered for Phase 2 of the program. This application held questions relating to a teams roster, background, community support, involvement, promotion, etc. As with phase 1, each team had a uniquely themed headgear, uniform, weapon skin, and charm created.[2] The second wave of weapon skins for the program was released on November 14, 2019.[3] The third wave was released on February 18, 2020.[4]
Revenue-sharing functions slightly differently compared to Phase 1
Pilot Team Themed Bundles - 30% of all net revenue goes to the respective pilot program team.
Pro League Bundles - 30% of all net revenue is split equally amongst member of the Pilot Program
30% of net revenues from the Road to SI event goes toward the Six Invitational 2020 prize pool. Should a Pilot Program team win prize money at the Six Invitational, the portion of that money funded by the Road to SI event revenues is split evenly with 50% to the organization and 50% to players.
| | |
| --- | --- |
| Fnatic | Cloud9 |
| Nora-Rengo | G2 Esports |
| PENTA | Team Empire |
| Natus Vincere | INTZ eSports Club |
| Team Liquid | FaZe Clan |
| MIBR | Evil Geniuses |
| Rogue | Spacestation Gaming |
Phase 3 of the Pilot Program was announced on February 16, 2020 in the Official Rainbow Six Discord server. A launch date of the phase has yet to be announced. Phase 3 will make provisions to expand the program to up to 44 teams globally, up from 14 teams in Phase 2. The program will be split into three tiers based on the strength of the relationship with the org. Tier 1 will have 10 teams, Tier 2 will have 15 teams, and Tier 3 will have 19 teams. The Pilot Program will include more choice in bespoke cosmetics for organizations, and support for teams, players and content creators.
References
Edit
Community content is available under
CC-BY-SA
unless otherwise noted.