"Created in 1974, Spetsnaz are members of Russian units dedicated to counter-terrorism, paramilitary and covert operations. They're tasked with protecting Russia's strategic installations, both domestic and international, though little is known is about the exact nature of their mission."
— Siege In-game description

The Russian Special Purpose Forces, or Spetsnaz, is an umbrella term for any special forces in Russian, literally "force of special purpose".
The Spetsnaz is an available organization in Tom Clancy's Rainbow Six Siege.
Operators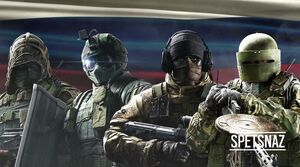 Weapons
Videos
Trivia
The icon used for the Spetsnaz is the logo of Alpha Group. This is supported by the CTU History, as the Alpha Group is created in 1974 in real life.
All Spetsnaz Operator models feature the letters ФСБ on their back, which stands for the FSB, to which the Alpha Group is a part of.
Despite the above evidence suggesting that the in-game Spetsnaz is representing the real life Alpha Group, many Spetsnaz Operator's models feature MVD equipment.
Community content is available under
CC-BY-SA
unless otherwise noted.