"No hostage. No bomb. Just loot. Will you make it out alive with a fortune, or will you fall in the crossfire? The Grand Larceny event begins now!"
— Official Description

The Grand Larceny is a limited-time event in Tom Clancy's Rainbow Six Siege that was introduced during the Operation Void Edge expansion. The event ran from May 5, 2020 to May 19, 2020.
The event takes place on the map Headquarters which is a modified version of the original Hereford Base prior to its rework. The map is themed around a British warehouse from the 1920s that houses a mobster hideout as opposed to a killhouse.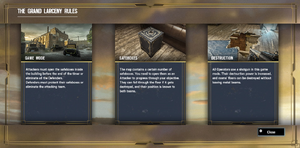 The event introduces the Stolen Goods gamemode which is a modified variant of the Secure Area. Like the standard gamemode, it pits two teams of five players against one another with the goal being to eliminate all members of the opposing team. The new aspect of the gamemode is that the Attacker's primary objective is to secure and open safeboxes located around the map. After three safeboxes have been opened, the Attackers will be declared the winners. The preparation phase and, consequently, Drones are absent from each match.
Each Operator has a preset loadout that cannot be changed. Each loadout consists of a shotgun which can be used to blow out the floor and ceiling of each room. Unlike normal multiplayer, metal bars are not present when destroying the floor, thereby allowing players to reach lower levels with ease as well as cutting off routes for the opposing team. Additionally, this allows players to destroy the floor underneath safeboxes, allowing them to fall to lower levels.
A majority of operators are available for use in the gamemode and do not require ownship in normal multiplayer to be used. The following operators are unavailable for use in the event:
As with other events, The Grand Larceny features limited-time Alpha Packs containing Headgear, Uniforms, Weapon Skins, and a Charm that are themed around the event. There are 31 cosmetic items in The Grand Larceny Alpha Pack collection with no duplicates awarded in packs. Packs are obtained through completing Ubisoft Club challenges or by purchase with Renown or R6 Credits.
| | |
| --- | --- |
| | Suprise Performance |
The Roaring Riches Bundle is available for the duration of the event for 40000

or 960

.
Seasonal
Deco Artistry
Crafted Six
Image
Name
Description
Reward
The Grand Larceny
Gain the upper hand with the Ubisoft Club Challenge. Get 20 kills in The Grand Larceny playlist to earn a Grand Larceny Pack.
Grand Larceny Alpha Pack
150 XP
Overtaker Challenge
Take the lead with the Ubisoft Club Challenge. Win 10 rounds in The Grand Larceny playlist to earn a Grand Larceny Pack.
Grand Larceny Alpha Pack
150 XP
Riches Challenge
Destroy everything with the Ubisoft Club Challenge. Win 1 match in The Grand Larceny playlist to obtain the Secured Currency charm.
Secured Currency Charm
150 XP
Community content is available under
CC-BY-SA
unless otherwise noted.