"In Operation Dust Line, two Navy SEAL Operators join Team Rainbow to secure the "Border" - our new free map. This second major content update also introduces new weapon skins, advanced customisation options, the ability to change your loadouts between rounds and lots more."
— Official Website Description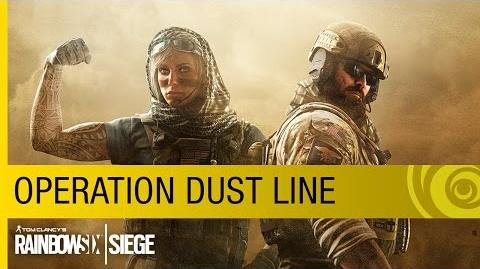 Operation Dust Line was the second expansion released for Tom Clancy's Rainbow Six Siege. It was a free expansion which added two new Operators from the U.S. Navy SEALs CTU, introducing new weapons, abilities, and gameplay upgrades.[1]
It was officially announced on April 22, 2016 and was released on May 10, 2016 for Year One Season Pass holders. On May 17, 2016, both Operators became available to all players. As with Operation Black Ice, all content released could be accessed one week earlier with ownership of the Season Pass.
Operation Dust Line was superseded by Operation Skull Rain on August 2, 2016.
Features
[
]
Maps
[
]
Operators
[
]
Weapons
[
]
Gallery
[
]
References
[
]