Tom Clancy's Rainbow Six Siege - Operation Red Crow Trailer
Play Sound
"In Operation Red Crow, two SAT Operators join Team Rainbow to neutralize the threat residing in our new free map, "Skyscraper". This fourth major content update aims to improve game experience, offers new customization opportunities and lots more. The new map Skyscraper also offers fresh tactical opportunities for group-based assaults."
— Official Website Description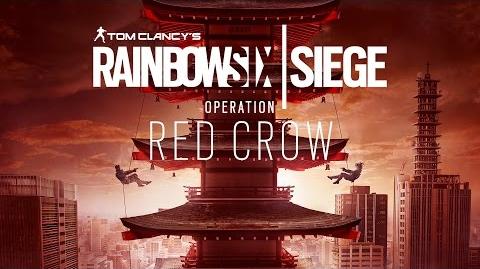 Operation Red Crow was the fourth free expansion to be released for Tom Clancy's Rainbow Six Siege, and the last expansion of Year One. It added two new Operators from the Japanese SAT CTU and the map Skyscraper.[1][2]
It was officially announced on November 2, 2016 and was released on November 17, 2016 for Season Pass owners, with the worldwide release on November 24, 2016. 
Operation Red Crow was superseded by the first operation of Year Two, Operation Velvet Shell, on February 7, 2017.
Features
Caliber-based destruction for all weapons[3]
Battle Dress Uniforms (BDU)
Maps
Operators
Weapons
Gallery
Videos
Stills
Trivia
The expansion was originally slated to be released on October 2016.
References