Operation Steel Wave is the seventeenth expansion for Tom Clancy's Rainbow Six Siege. It adds two new Operators from NIGHTHAVEN and the South African ITF. The expansion also features a rework of House.
It was formally announced on February 16th, 2020 during the Six Invitational 2020[1], and teased on May 13th, 2020.[2] The expansion was fully revealed on May 18th, 2020 and became available on the Test Server on May 19th, 2020. It was released on June 16th, 2020 for Season Pass owners and was released worldwide on June 23rd, 2020.[3]
Features
[
]
Operators
[
]
Map
[
]
Gadget
[
]
Cosmetics
[
]
Echo Tenkamusou Elite Set
Dokkaebi Electro Beat Elite Set
Seasonal cosmetics
Miscellaneous
[
]
Gameplay
[
]
For the full list of changes, see the Pre-Season Designer Notes.
Tour De Force Battle Pass
[
]
Tour De Force
Two fires burning downtown.
It isn't long before we realize the flames aren't the main event. A major heist is brewing on the other side of the city. Paris is awash in the fiery glow of flashing lights as the police and the GIGN strive to keep order.
Someone wants us confused and scared. The Program has taught us a thing or two about situations like this. Stronger together, our training gives us the edge we need and our gear provides the rest.
They'll never know what hit them.
- Rook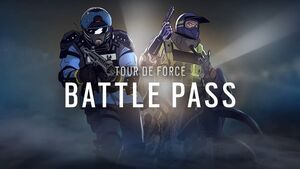 The expansion features its own Battle Pass known as "Tour De Force". It is composed of 45 tiers across a free and premium track. Each tier rewards players with exclusive customization items, Alpha Packs, currency packs, and boosters for a total of 61 rewards. Progression towards the Battle Pass can be earned in any playlist (excluding Training Grounds). It was released on June 29, 2020 and concluded on July 27, 2020.
Free Track
[
]
The Free track is available for all players. Those who purchase the Premium Track will still unlock rewards in the Free Track.
Premium Track
[
]
The Premium track costs 1200

. The Premium Bundle immediately unlocks 12 tiers alongside the Premium track and costs 2400

. Season Pass holders have a 30% discount on these prices as well as a 30% boost on the amount of Battle Points earned.
Tier
Image
Description

1

Nøkk Blacksmith Bundle


Mission Blacksmith

Nøkk Headgear


Mission Blacksmith

Nøkk Uniform


Mission Blacksmith

FMG-9 Weapon Skin


Nøkk Blacksmith

Charm

2

1 Day Renown Booster

3

Mission Blacksmith

416-C Carbine Weapon Skin

4

Alpha Pack

5

Broken Hearts Club

Bandit Headgear

6

120 R6 Credits

7

Bright Camouflage

Twitch Uniform
Bank robbers rarely wear neon clothing. They'd rather go unnoticed. Me? I stick to safety yellow on duty so Rook can tell the good guys from the bad - Twitch

8

Saturated

F2 Weapon Skin
Firearms have their uses, but I'm more interested keeping collateral damage to a minimum, especially here in the capital. - Twitch

9

120 R6 Credits

10

Crimson Dispatch

Bandit Uniform

11

Alpha Pack

12

120 R6 Credits

13

Beam Line

Twitch Headgear
I've spent my life filling my head with data, learning all I can to make myself better. I need a good helmet to protect my investment. - Twitch

14

Mountainous Mimicry

ALDA 5.56 Weapon Skin

15

Leather and Denim

Maverick Uniform

16

1 Day Renown Booster

17

Blacksmith Buck

Charm

18

Alpha Pack

19

Mission Blacksmith

C8-SFW Weapon Skin

20

120 R6 Credits

21

Alpha Pack

22

Snowballer

Charm

23

1 Day Renown Booster

24

Mission Blacksmith

Bandit Uniform

25

Alpha Pack

26

Mission Blacksmith

Buck Headgear

27

120 R6 Credits

28

Alpine Agent

Maestro Headgear

29

Swift Ammunition

MP5 Weapon Skin
The gear we use - armor, weapons, vehicles, anything really - is a lifeline. As long as we take good care of it, it will take good care of us. - Rook

30

1 Day Renown Booster

31

Mission Blacksmith

Buck Uniform

32

Alpha Pack

33

Padded Hide

AR-15.50 Weapon Skin

34

120 R6 Credits

35

Loose Ushanka

Fuze Headgear

36

Blacksmith Jäger

Charm

37

1 Day Renown Booster

38

Mission Blacksmith

Jäger Headgear

39

Alpha Pack

40

Biker Blues

Rook Headgear
I've had good days and I've had bad ones. If it wasn't for my helmet, which stopped a bullet and kept the shrapnel off, my career might've been over. - Rook

41

Flash Drive

Charm
The motorcycle chase in Paris was a thrill like no other, but I'll take a relaxing bike ride on a brisk spring morning any day.

42

Mobile Trooper

Rook Uniform
Cycling in the Alps taught me about freedom. The high-speed motorcycle pursuit in Paris taught me what must be done to protect that freedom. - Rook

43

Alpha Pack

44

Velveteen

Universal Attachment Skin

45

Velveteen

Weapon Skin
Trivia
[
]
Match Replay and Ping 2.0 was set to launch in the expansion but was postponed due to development being affected by the COVID-19 pandemic.[4]
Gallery
[
]
References
[
]