This article is currently under construction. It may contain little or inaccurate information.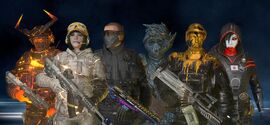 Uniforms and Headgear are customization options featured in Tom Clancy's Rainbow Six Extraction. Both allow players to change the default look of an Operator and remain unchanged from their counterparts in Tom Clancy's Rainbow Six Siege. They are available in matching sets and are interchangeable with one another.
Uniforms and Headgear can be obtained by reaching Development Milestone ranks, completing Studies, defeating Proteans, unlocking them in Ubisoft Connect, purchasing them with REACT Credits through the in-game Shop, or by participating in limited time events. Additionally, matching sets can be bought for a discounted price in the Shop.
Uniforms and Headgear are available in four rarities:

/

Common,

/

Rare,

/

Epic, and

/

Legendary.
Full sets are available in

Bundles.
Default Operators
[
]
Unlockable Uniforms



REACT Standard Issue


&
Default



Chalk


Milestone 6
Milestone 5



HZ-Tarp


Advancement 2
Advancement 5



Nightshift


&
Default



Phantom Sight


VR Study: "The Incursion Protocol"
VR Study: "Combat Ready"



Riot Squad


SF Study: "Health Maintenance"
SF Study: "Minesweeper"



Alpha


Milestone 23
Milestone 22



Formaldehyde


Milestone 15
Milestone 14



Rubicon Phase


&
Rubicon Phase Bundle



Status Symbol


Advancement 10
Advancement 7



Caution Risk


ToC Study: "Self-Care"
ToC Study: "In The Mist"



Crush Depth


Milestone 28
Milestone 27



Noxious Touch


&
Noxious Touch Pack



Spectrum


&
REACT Strike Pack



Polar Vortex


Milestone 9
Milestone 8

Archæan Alibi
Protean Alibi Drop
Protean Alibi Drop



Desert Kingsnake


Limited Time Uniform
Maelstrom Rewards



Bronze Maelstrom Class


20,000+ XP



Silver Maelstrom Class


30,000+ XP



Gold Maelstrom Class


50,000+ XP



Platinum Maelstrom Class


75,000+ XP



Diamond Maelstrom Class


95,000+ XP
Premium Uniforms



Discotheque


300
500



Dust Storm Drifter


300
500



Ruby Lacquer


300
500



Action Figure


500
700



Keiko Kamen


500
700



Luxe


500
700



Dune Sandtrap


500
700
800
Unlockable Uniforms



REACT Standard Issue


&
Default



Chalk


Milestone 6
Milestone 5



HZ-Tarp


Advancement 2
Advancement 5



Nightshift


&
Default



Phantom Sight


VR Study: "The Incursion Protocol"
VR Study: "Combat Ready"



Riot Squad


SF Study: "Health Maintenance"
SF Study: "Minesweeper"



Alpha


Milestone 23
Milestone 22



Formaldehyde


Milestone 15
Milestone 14



Rubicon Phase


&
Rubicon Phase Bundle



Status Symbol


Advancement 10
Advancement 7



Caution Risk


ToC Study: "Self-Care"
ToC Study: "In The Mist"



Crush Depth


Milestone 28
Milestone 27



Spectrum


&
REACT Strike Pack



Polar Vortex


Milestone 9
Milestone 8



Desert Kingsnake


Limited Time Uniform
Maelstrom Rewards



Bronze Maelstrom Class


20,000+ XP



Silver Maelstrom Class


30,000+ XP



Gold Maelstrom Class


50,000+ XP



Platinum Maelstrom Class


75,000+ XP



Diamond Maelstrom Class


95,000+ XP
Premium Uniforms



Hot Pursuit


300
500



Stargazer


300
500



Strapped Plexus


300
500



Scorch Troll


500
700



Chevalier


500
700



Dune Sandtrap


- 500
700
800
Unlockable Uniforms



REACT Standard Issue


&
Default



Chalk


Milestone 6
Milestone 5



HZ-Tarp


Advancement 2
Advancement 5



Nightshift


&
Default



Phantom Sight


VR Study: "The Incursion Protocol"
VR Study: "Combat Ready"



Riot Squad


SF Study: "Health Maintenance"
SF Study: "Minesweeper"



Alpha


Milestone 23
Milestone 22



Formaldehyde


Milestone 15
Milestone 14



Rubicon Phase


&
Rubicon Phase Bundle



Status Symbol


Advancement 10
Advancement 7



Caution Risk


ToC Study: "Self-Care"
ToC Study: "In The Mist"



Crush Depth


Milestone 28
Milestone 27

Hive Mind
&
United Front Bundle



Spectrum


&
REACT Strike Pack



Polar Vortex


Milestone 9
Milestone 8



Desert Kingsnake


Limited Time Uniform
Maelstrom Rewards



Bronze Maelstrom Class


20,000+ XP



Silver Maelstrom Class


30,000+ XP



Gold Maelstrom Class


50,000+ XP



Platinum Maelstrom Class


75,000+ XP



Diamond Maelstrom Class


95,000+ XP
Premium Uniforms



Candela Riot


300
500



Everglades


300
500



Express Takeout


300
500



Fracture


500
700



Kiszone


500
700



Misfit


500
700



Dune Sandtrap


500
700
800
Unlockable Uniforms



REACT Standard Issue


&
Default



Chalk


Milestone 6
Milestone 5



HZ-Tarp


Advancement 2
Advancement 5



Nightshift


&
Default



Phantom Sight


VR Study: "The Incursion Protocol"
VR Study: "Combat Ready"



Riot Squad


SF Study: "Health Maintenance"
SF Study: "Minesweeper"



Alpha


Milestone 23
Milestone 22



Formaldehyde


Milestone 15
Milestone 14



Rubicon Phase


&
Rubicon Phase Bundle



Status Symbol


Advancement 10
Advancement 7



Caution Risk


ToC Study: "Self-Care"
ToC Study: "In The Mist"



Crush Depth


Milestone 28
Milestone 27



Orion


&
Orbital Decay Bundle



Spectrum


&
REACT Strike Pack



Polar Vortex


Milestone 9
Milestone 8



Desert Kingsnake


Limited Time Uniform
Maelstrom Rewards



Bronze Maelstrom Class


20,000+ XP



Silver Maelstrom Class


30,000+ XP



Gold Maelstrom Class


50,000+ XP



Platinum Maelstrom Class


75,000+ XP



Diamond Maelstrom Class


95,000+ XP
Premium Uniforms



Cerise Tigard


300
500



Impermeable


300
500



Broadcaster


500
700



Dipped


500
700



Venous Wyvern


500
700



Dune Sandtrap


500
700
800
Unlockable Uniforms



REACT Standard Issue


&
Default



Chalk


Milestone 6
Milestone 5



HZ-Tarp


Advancement 2
Advancement 5



Nightshift


&
Default



Phantom Sight


VR Study: "The Incursion Protocol"
VR Study: "Combat Ready"



Riot Squad


SF Study: "Health Maintenance"
SF Study: "Minesweeper"



Alpha


Milestone 23
Milestone 22



Formaldehyde


Milestone 15
Milestone 14



Rubicon Phase


&
Rubicon Phase Bundle



Status Symbol


Advancement 10
Advancement 7



Caution Risk


ToC Study: "Self-Care"
ToC Study: "In The Mist"



Crush Depth


Milestone 28
Milestone 27



Spectrum


&
REACT Strike Pack



Enduring Void




Polar Vortex


Milestone 9
Milestone 8



Desert Kingsnake


Limited Time Uniform
Maelstrom Rewards



Bronze Maelstrom Class


20,000+ XP



Silver Maelstrom Class


30,000+ XP



Gold Maelstrom Class


50,000+ XP



Platinum Maelstrom Class


75,000+ XP



Diamond Maelstrom Class


95,000+ XP
Premium Uniforms



Cosmopolis


300
500



Twisted Sifter


300
500



Futakuchi


500
700



Kitsune


500
700



Rococo


500
700



Dune Sandtrap


500
700
800
Unlockable Uniforms



REACT Standard Issue


&
Default



Chalk


Milestone 6
Milestone 5



HZ-Tarp


Advancement 2
Advancement 5



Nightshift


&
Default



Phantom Sight


VR Study: "The Incursion Protocol"
VR Study: "Combat Ready"



Riot Squad


SF Study: "Health Maintenance"
SF Study: "Minesweeper"



Alpha


Milestone 23
Milestone 22



Formaldehyde


Milestone 15
Milestone 14



Rubicon Phase


&
Rubicon Phase Bundle



Status Symbol


Advancement 10
Advancement 7



Caution Risk


ToC Study: "Self-Care"
ToC Study: "In The Mist"



Crush Depth


Milestone 28
Milestone 27

Hive Mind
&
United Front Bundle



Orion


&
Orbital Decay Bundle



Spectrum


&
REACT Strike Pack



Polar Vortex


Milestone 9
Milestone 8



Desert Kingsnake


Limited Time Uniform
Maelstrom Rewards



Bronze Maelstrom Class


20,000+ XP



Silver Maelstrom Class


30,000+ XP



Gold Maelstrom Class


50,000+ XP



Platinum Maelstrom Class


75,000+ XP



Diamond Maelstrom Class


95,000+ XP
Premium Uniforms



Dijon Leoger


300
500



Impervious


300
500



Crisp Hi-Def


500
700



Gilded


500
700



Ironclad Wyvern


500
700



Dune Sandtrap


500
700
800
Unlockable Uniforms



REACT Standard Issue


&
Default



Chalk


Milestone 6
Milestone 5



HZ-Tarp


Advancement 2
Advancement 5



Nightshift


&
Default



Phantom Sight


VR Study: "The Incursion Protocol"
VR Study: "Combat Ready"



Riot Squad


SF Study: "Health Maintenance"
SF Study: "Minesweeper"



Alpha


Milestone 23
Milestone 22



Formaldehyde


Milestone 15
Milestone 14



Rubicon Phase


&
Rubicon Phase Bundle



Status Symbol


Advancement 10
Advancement 7



Caution Risk


ToC Study: "Self-Care"
ToC Study: "In The Mist"



Crush Depth


Milestone 28
Milestone 27



Spectrum


&
REACT Strike Pack



Polar Vortex


Milestone 9
Milestone 8



Desert Kingsnake


Limited Time Uniform
SPL Study: "I See You"
SPL Study: "Strike Team"

Maelstrom Rewards
Premium Uniforms



Neo-Noir


300
500



Thrift Shop


300
500



Bionic


500
700



Stray Sphynx


500
700



Wrangler


500
700



Dune Sandtrap


500
700
800
Unlockable Uniforms



REACT Standard Issue


&
Default



Chalk


Milestone 6
Milestone 5



HZ-Tarp


Advancement 2
Advancement 5



Nightshift


&
Default



Phantom Sight


VR Study: "The Incursion Protocol"
VR Study: "Combat Ready"



Riot Squad


SF Study: "Health Maintenance"
SF Study: "Minesweeper"



Alpha


Milestone 23
Milestone 22



Formaldehyde


Milestone 15
Milestone 14



Rubicon Phase


&
Rubicon Phase Bundle



Status Symbol


Advancement 10
Advancement 7



Caution Risk


ToC Study: "Self-Care"
ToC Study: "In The Mist"



Crush Depth


Milestone 28
Milestone 27



Spectrum


&
REACT Strike Pack



Polar Vortex


Milestone 9
Milestone 8

Archæan Sledge
Protean Sledge Drop
Protean Sledge Drop



Desert Kingsnake


Limited Time Uniform
Maelstrom Rewards
Premium Uniforms



Marauder


300
500



Tac Flashback


300
500



Undertow


300
500



A1-13N


500
700



Machinist


500
700



Dune Sandtrap


500
700
800
Unlockable Uniforms



REACT Standard Issue


&
Default



Chalk


Milestone 6
Milestone 5



HZ-Tarp


Advancement 2
Advancement 5



Nightshift


&
Default



Phantom Sight


VR Study: "The Incursion Protocol"
VR Study: "Combat Ready"



Riot Squad


SF Study: "Health Maintenance"
SF Study: "Minesweeper"



Alpha


Milestone 23
Milestone 22



Formaldehyde


Milestone 15
Milestone 14



Rubicon Phase


&
Rubicon Phase Bundle



Status Symbol


Advancement 10
Advancement 7



Caution Risk


ToC Study: "Self-Care"
ToC Study: "In The Mist"



Crush Depth


Milestone 28
Milestone 27

Hive Mind
&
Vigil Hive Mind Set



Spectrum


&
REACT Strike Pack



Polar Vortex


Milestone 9
Milestone 8



Desert Kingsnake


Limited Time Uniform
Maelstrom Rewards
Premium Uniforms



Fender Bender


300
500



Incognito


300
500



Manhunter


300
500



Candy Core Invader


500
700



Dynamo


500
700



Tornado Knockout


500
700



Dune Sandtrap


500
700
800
The Backbone
[
]
Unlockable Uniforms



REACT Standard Issue


&
Default



Chalk


Milestone 6
Milestone 5



HZ-Tarp


Advancement 2
Advancement 5



Nightshift


&
Default



Phantom Sight


VR Study: "The Incursion Protocol"
VR Study: "Combat Ready"



Riot Squad


SF Study: "Health Maintenance"
SF Study: "Minesweeper"



Alpha


Milestone 23
Milestone 22



Formaldehyde


Milestone 15
Milestone 14



Rubicon Phase


&
Rubicon Phase Bundle



Status Symbol


Advancement 10
Advancement 7



Caution Risk


ToC Study: "Self-Care"
ToC Study: "In The Mist"



Crush Depth


Milestone 28
Milestone 27



Spectrum


&
REACT Strike Pack



Polar Vortex


Milestone 9
Milestone 8



Desert Kingsnake


Limited Time Uniform
Maelstrom Rewards



Bronze Maelstrom Class


20,000+ XP



Silver Maelstrom Class


30,000+ XP



Gold Maelstrom Class


50,000+ XP



Platinum Maelstrom Class


75,000+ XP



Diamond Maelstrom Class


95,000+ XP
Premium Uniforms



Battle Shredded


300
500



Fired Up


300
500



Haptic Bloom


300
500



Glowstick


500
700



Shock Tread


500
700



Dune Sandtrap


500
700
Unlockable Uniforms



REACT Standard Issue


&
Default



Chalk


Milestone 6
Milestone 5



HZ-Tarp


Advancement 2
Advancement 5



Nightshift


&
Default



Phantom Sight


VR Study: "The Incursion Protocol"
VR Study: "Combat Ready"



Riot Squad


SF Study: "Health Maintenance"
SF Study: "Minesweeper"



Alpha


Milestone 23
Milestone 22



Formaldehyde


Milestone 15
Milestone 14



Rubicon Phase


&
Rubicon Phase Bundle



Status Symbol


Advancement 10
Advancement 7



Caution Risk


ToC Study: "Self-Care"
ToC Study: "In The Mist"



Crush Depth


Milestone 28
Milestone 27



Spectrum


&
REACT Strike Pack



Polar Vortex


Milestone 9
Milestone 8



Desert Kingsnake


Limited Time Uniform



Hotshot


&
Participate in SPL Study
Maelstrom Rewards



Bronze Maelstrom Class


20,000+ XP



Silver Maelstrom Class


30,000+ XP



Gold Maelstrom Class


50,000+ XP



Platinum Maelstrom Class


75,000+ XP



Diamond Maelstrom Class


95,000+ XP
Premium Uniforms



Ember Flux


300
500



Warworn


300
500



Fall Harvest


500
700



Lightshow


500
700



Revved Revolution


500
700



Dune Sandtrap


500
700
Unlockable Uniforms



REACT Standard Issue


&
Default



Chalk


Milestone 6
Milestone 5



HZ-Tarp


Advancement 2
Advancement 5



Nightshift


&
Default



Phantom Sight


VR Study: "The Incursion Protocol"
VR Study: "Combat Ready"



Riot Squad


SF Study: "Health Maintenance"
SF Study: "Minesweeper"



Alpha


Milestone 23
Milestone 22



Formaldehyde


Milestone 15
Milestone 14



Rubicon Phase


&
Rubicon Phase Bundle



Status Symbol


Advancement 10
Advancement 7



Caution Risk


ToC Study: "Self-Care"
ToC Study: "In The Mist"



Crush Depth


Milestone 28
Milestone 27



Spectrum


&
REACT Strike Pack



Polar Vortex


Milestone 9
Milestone 8



Desert Kingsnake


Limited Time Uniform
Maelstrom Rewards



Bronze Maelstrom Class


20,000+ XP



Silver Maelstrom Class


30,000+ XP



Gold Maelstrom Class


50,000+ XP



Platinum Maelstrom Class


75,000+ XP



Diamond Maelstrom Class


95,000+ XP
Premium Uniforms



Dragnet


300
500



Spationaute


300
500



Droid Expanse


500
700



Gendarme


500
700



Hellfire Fiend


500
700



Misfit


500
700
The Strong Arm
[
]
React Standard Issue

Chalk
Uniform: Milestone 5
Headgear: Milestone 6

HZ-Tarp


Nightshift

Phantom Sight

Riot Squad


Alpha
Uniform: Milestone 22
Headgear: Milestone 23

Formaldehyde
Uniform: Milestone 14
Headgear: Milestone 15

Rubicon Phase
Prime Gaming Reward




Status Symbol

Caution Risk

Crush Depth
Uniform: Milestone 27
Headgear: Milestone 28

Spectrum







Polar Vortex
Uniform: Milestone 8
Headgear: Milestone 9




Desert Kingsnake


Limited Time Uniform
Maelstrom Rewards
Premium Uniforms

Bone Char

DIY Ronin

Fubuki

Sentry




Timber Wolf




Dune Sandtrap
React Standard Issue

Chalk
Uniform: Milestone 5
Headgear: Milestone 6

HZ-Tarp


Nightshift

Phantom Sight

Riot Squad


Alpha
Uniform: Milestone 22
Headgear: Milestone 23

Formaldehyde
Uniform: Milestone 14
Headgear: Milestone 15

Rubicon Phase
Prime Gaming Reward




Status Symbol

Caution Risk

Crush Depth
Uniform: Milestone 27
Headgear: Milestone 28

Spectrum




Polar Vortex
Uniform: Milestone 8
Headgear: Milestone 9










Desert Kingsnake


Limited Time Uniform
Maelstrom Rewards
Premium Uniforms

Ruined Wastes

Strobescoat

Concrete Jungle

Iron Lung




Redzone

Dune Sandtrap
React Standard Issue

Chalk
Uniform: Milestone 5
Headgear: Milestone 6

HZ-Tarp


Nightshift

Phantom Sight

Riot Squad


Alpha
Uniform: Milestone 22
Headgear: Milestone 23

Formaldehyde
Uniform: Milestone 14
Headgear: Milestone 15

Status Symbol

Caution Risk

Crush Depth
Uniform: Milestone 27
Headgear: Milestone 28

Spectrum




Polar Vortex
Uniform: Milestone 8
Headgear: Milestone 9




Desert Kingsnake


Limited Time Uniform
Maelstrom Rewards
Premium Uniforms

Black Tide

Hibagon

Enfant Terrible

Kodiak




Sentinel




Dune Sandtrap
The Architects
[
]
React Standard Issue

Chalk
Uniform: Milestone 5
Headgear: Milestone 6

HZ-Tarp


Nightshift

Phantom Sight

Riot Squad


Alpha
Uniform: Milestone 22
Headgear: Milestone 23


Formaldehyde
Uniform: Milestone 14
Headgear: Milestone 15




Rubicon Phase
Prime Gaming Reward




Status Symbol

Caution Risk

Crush Depth
Uniform: Milestone 27
Headgear: Milestone 28

Spectrum





Polar Vortex
Uniform: Milestone 8
Headgear: Milestone 9




Desert Kingsnake


Limited Time Uniform
Maelstrom Rewards
Premium Uniforms

Manchineel

Rawhide

Vovo

Bone King