Hi! I'm DaProGamerXx, AKA DimunDagger. I love Rainbow Six and all things Siege. My favorite thing to do is work on Operation pages, so you may see me doing some of them. :). I'm pretty bad at Siege itself, though. I'll probably have to freshen up a little bit before I do anything else. 
P.S (just so you know). Calling myself DimunDagger has nothing to do with my rank (I was a Bronze in Para Bellum) but a relation with another retired user named DiamondDaggurz (not on the R6 wiki). I adopted his namesake as a memory, because he introduced me to R6. I'm a Level 57 player but I still haven't played that much Ranked yet. IMO, Casual is far better. (62 hours on Casual, 7 hours on Ranked)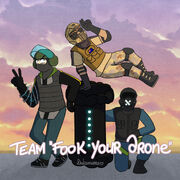 My mains are:
Ash (G36C since Ubi chopped the ACOG)
IQ (in fact, my in game username matches her initials, but I may change that)
Twitch (not because of her F2)
Lord Chanka is disappointed that you did not pick him. My stats page can be found here . Yes, I'm a Bronze III. Yes, I'm aware of this. Yes, I suck, I know. 
​​​​​​My favorite pagesEdit
Anything to do with Operations in R6S. You may have noticed me being quite... prolific on these pages.
Anything to do with Operators.
Anything to do with tricks and tips.
Community content is available under
CC-BY-SA
unless otherwise noted.