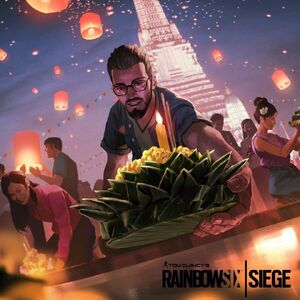 The Official Rainbow Six Thailand account has posted a teaser image for the upcoming Year 5 Season 4 expansion for Tom Clancy's Rainbow Six Siege. It depicts Harry "Six" Pandey attending Loi Krathong in Bangkok. The post also includes a conversation between Harry and Mira where they discuss Kali recruiting a new Operator in Thailand.[1]
Year 5 Season 4 was first announced at the Six Invitational 2020 on February 16th, 2020. It was stated that it will include one Operator from Thailand as well as a rework for the map Skyscraper. Siege's expansions are typically released around the same times each year. With this in mind, Operation Shifting Tides released last year on the Test Server on November 10th, 2020 and released worldwide on December 3rd, 2020. Its definately plausible that the new expansion should release on the Test Server within the next two weeks.
Here is the conversation between Harry and Mira:
Mira: Loi Krathong festival. Is it fun? Harry?
Harry: It's as fun as it can be. Even though we don't have much time, I haven't had time to try a dish of Pad Thai.
Mira: Kali is also in Bangkok. She looks like she's recruiting a new expert.
Harry: Is that so? I wonder who it is?
Mira: Kali only accepts skill. I'm sure we will know soon.
References